---
---
Bartending Made easy 
is the guide for every 
bartender or wanna 
be bartender.
 In plain words Janette 
Dixon shows you how
 to be an expert at 
bartending so all your
parties can be a smash.


Puzzles with a Valentine's Day theme.

      Mandy hated getting 
on the school bus to go 
to school because the bigger 
boys always bullied her. 
Then she saw Barry, one of 
the bullies crying in the 
schoolyard and Mandy went 
over to see if he was OK. 
It was then that Mandy 
learned why he was being 
a bully and she decided 
to try and help him be a 
better person and not bully 
others.


Try some great cookbooks

For all the cookie lovers. This cookbook has all your favorites.

Want to feel like you're

in Heaven on Earth?

Well this cookbook will

make you float on clouds

of pure ecstasy as you

try each and every

savory recipe.

The definitive book that anyone who even nears a kitchen should possess!

Expert Chef Eva Kende tells it all. From soup to nuts, from selecting meats to picking vegetables, Ms. Kende tells us what Mother either forgot or never knew. More than just a recipe book, Eva's Kitchen Confidence instructs us on the tools we'll need, about the foods we prepare and just how to prepare them. A must for every child leaving the nest, every new bride and every cook who wondered just how do they do that!

Send a Singing Phonegram for a most unique gift.

Angel's Singing Phonegram

(U.S. Phone Numbers Only)

To find all of our books and products on one easy page click here to go to our Book Catalog

These are memorial pages for our authors and staff of DiskUs Publishing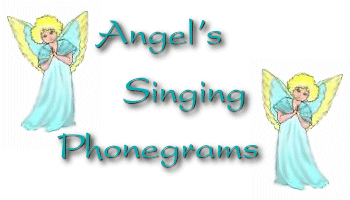 Send a Singing Phonegram for a most unique gift.
Angel's Singing Phonegram
| | |
| --- | --- |
| | Let's face it. Few of us enjoy seeing our email boxes cluttered with uninvited mail. DiskUs Publishing has made a commitment to its readers and customers, the "No Spam Guarantee." DiskUs Publishing will not use your names or email addresses to send you unsolicited information nor will DiskUs sell your information to any third party. It's our promise to you. |
© DiskUs Publishing
Email us at
postmaster@ diskuspublishing. com

.