---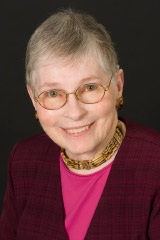 Jane Toombs
(December 27, 1926 - March 5, 2014)
Jane Jamison Toombs of Ontonagon passed away on March 5, 2014 at Aspirus Ontonagon Hospital.
Jane, 87 years of age, was the daughter of Frances and James Knox Jamison of Ontonagon. Jane graduated from Ontonagon High School in the class of 1943 and received a degree as a registered nurse from St. Luke's School of Nursing in Marquette in the class of 1948. Jane was the published author of about one hundred books, novellas and short stories, both in print and electronic. These include the various romance genre as well as mystery, fantasy and horror. Jane continued writing and publishing up until the final year of her life.
Jane is survived by her beloved partner, Elmer Anderson, five children, Dr. James (Barbara), Ellen (Jim), Ann, Bobbie, and Robert (DeeAnn), their father Albert, two step-children, Leslie Toombs (Steve Robinson) and Michael Toombs, six grandchildren and three great-grandchildren. Jane is preceded in death by her husband John Toombs and brother Knox Jamison.
Memorial arrangements are pending and will be announced by Cane Funeral Home.
~~~~~~
~~~~~~~~~~~~~~~~~~
Jane has been with DiskUs since early on when DiskUs first opened for business and I had the pleasure to work with her on many occassions. She was a talented and her books have touched many lives. The world has lost a wonderful and talented author and she will be missed by all who knew her.
Marilyn Nesbitt: CEO DiskUs Publishing
___________________________________________
I worked with Jane on the editing of her books and her books were almost perfect and needed very little work to make them publishable. She was a wonderful author and I will miss working with her.
Carol Davis: Senior Editor, DiskUs Publishing
-----------------------------------------------------------
I never met Jane in person but I worked with her through email and she was one of the nicest people I know. She was a very talented author and I enjoyed all of her books. She will be missed by everyone.
Holly Janey: Editor, DiskUs Publishing
--------------------------------------------------------
---------------------------------------------------------