---
Kathleen Culligan Techler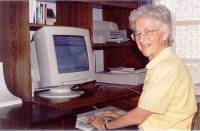 Kathleen Culligan Techler has lived half her life in Minnesota and half in Florida, where she now lives with her husband. She has been a physical therapist, full time mother of five, and part time bookkeeper. She is a proud grandmother.
Always an avid reader, Kathleen loves mysteries and a bit of romance. A barrier island off the coast of Florida where she and her husband owned a house is the background for two of her books.
When she is not writing or reading she delivers Meals on Wheels, knits hats for newborns, and tutors second graders in reading.
Click here to read an exclusive interview with author Kathleen Culligan Techler
An exclusive interview with author Kathleen Culligan Techler
Where do you live?
Florida
Where can fans write to you?
What inspires your work?
Usually a place inspires a book for me. I've written two about a Florida island, another about a skating rink. My latest book Shalom, Mary, was inspired by a Christmas sermon.
What's your usual writer's day like?
I force myself to walk early in the morning before it gets too hot. Then I do errands. In the afternoon I write. And if I haven't walked in the morning, I do a "Jig Don't Jog" aerobic exercise with a video filmed in Ireland. In the evening I usually catch up on email.
Tell us about your family.
I have a wonderful husband, five grown children, and nine grandchildren. Amazing. How did someone so young accomplish that?
Do you have any pets?
No, but we have a grand-pet, a little Yorkie named Ozzie. He comes to visit when his family goes on vacation.
What are your hobbies?
I love reading, of course, and I like to sew, knit, and paint.
What do you enjoy doing in your leisure time?
Since my husband doesn't like to dance, I'm currently looking for a line dance or contra dance class that doesn't require partners. I'll go to great lengths to avoid playing cards.
Who are your favorite authors?
Susan Howatch is my favorite author. I also like Rosamunde Pilcher, Maeve Binchy, Mary Higgins Clark, Dick Francis, and John D. MacDonald.
What's your favorite place?
My favorite place is home, or wherever my husband and family are.
What place, that you haven't already visited, would you like to visit?
I'd like to see Alaska and Hawaii. I think we've seen every other state.
What's your favorite kinds of music?
Band (as in marching), Irish, Classical.
© DiskUs Publishing