---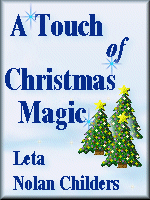 Download: $4.50
BAH HUMBUG! Cammie might be willing to go through the motions and make it appear she was enjoying the Christmas season, but it was only a facade. It was the worst Christmas ever!
A faithless lover, missing parents and the constant peel of Christmas carols was just a bit too much to take.
Enter handsome new neighbor Quinn--a man from her past with an eye on her future.
Could Christmas get much worse with that perpetual pest just next door blackmailing her into holiday happiness?
From the best selling author of "The Best Laid Plans," Leta Nolan Childers.

© DiskUs Publishing